Innovative financing for global health research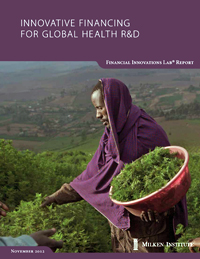 The world of medicine has long been divided between developed countries that can afford cutting-edge treatments and developing ones whose poor populations too often go without urgently needed care. Because the eradication of diseases like TB and malaria would make a dramatic impact on emerging economies, investors in these countries including multinational aid providers, foundations, corporations and institutional funds must work together in innovative ways to increase the pool of capital available to drive drug discovery.
A new report from the Milken Institute,Innovative Financing for Global Health R&D,?explores ways to broaden the flow of capital to bridge the divide and get more treatments for diseases that primarily affect the developing world.
To explore the most effective financial models to fund the development of drug treatments and vaccines, the Milken Institute convened a Financial Innovations Lab(R) with support from the Bill & Melinda Gates Foundation. Lab participants, who included global health advocates and public- and private-sector investors, concluded that research and development for developing-world diseases can now represent opportunities to engage investors, apart from the traditional donors, with demonstrable financial and social returns.
The Institute's report outlines strategies for improving and expanding the use of financial tools to engage the largest pools of capital available, including:
• Developing more efficient ways for donors to be involved
• Implementing blended-capital mechanisms that spread risk among funders with different needs
• Implementing capital market-based models that can bring new investors to R&D
• Exploring new private-sector models that rely on mechanisms such as exchange-traded funds and GDP-linked securities
• Creating innovative partnerships that pair funding organizations with entities that have local-market expertise and infrastructure.