Capital Access in Israel Underserved Markets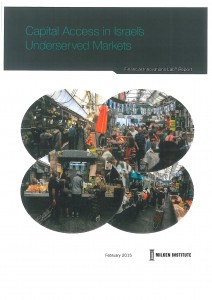 In 2014 the Milken Institute convened a Financial Innovations Lab® on the topic of how to build mechanisms for financial inclusion in Israel. Unlike a number of previous Labs that have focused on easing barriers to capital for entrepreneurs and small and medium businesses, this Lab addressed the needs of Israel's poorest and most vulnerable populations. The Lab was held in Jerusalem with more than 50 policymakers, regulators, and community and industry representatives.
The Lab addressed local initiatives in alternative banking, community lending, asset building, and financial technologies. The discussions tackled the four pillars of inclusive financing strategies: capital growth, community development, credit, and capacity.
The lessons learned from the experts in attendance form the basis of the Lab's recommendations and proposed roadmap:
Make small credit available: personal, household, and small-business credit is essential for building the foundation of a self-sustaining lender and community.
Be transparent and accountable to the customer: the savings and credit services offered by financial institutions must be open, accessible, and responsive to the residents within their communities.
Reach those in need: it will be necessary to design and tailor new financial services to provide access to the unbanked and underbanked.
Start small, but scalable and sustainable: new community-based financial institutions can start small and grow, if they are given the flexibility to be innovative.
Expand sources of capital: innovative and flexible methods of sourcing new capital and investing in the communities are needed in order to reach these underserved and needy communities.
Israel's existing banks will not solve the problems of financial exclusion. Poor and vulnerable populations and communities who live at subsistence levels will not be able to lift themselves up by wishing it so. Rather, new approaches, innovations, experimentation, and collaborations are needed. This Financial Innovations Lab turns a spotlight on the issue and the possibilities for positive change.