La Cocina: Bad-Ass Cooking
My name is Anat, and I am a Milken fellow at the National Insurance Institute, at the Development Funds. As a fellow, I am involved in several projects, and one of them is the "Yozma Funds", which designed to develop the field of social entrepreneurship in Israel. Social business is defined as a non-loss, non-dividend company that created and designed to address a social problem. Profits realized by the business are reinvested, with the aim of increasing social impact. As a social business, it is not dependent on donations or on private or public grants to survive and to operate, because, as any other business, it is self-sustainable. These social businesses will employ the disadvantage populations such as people with disabilities, children at risk, low-income, elderlies etc.
In San Francisco, there has been a long history of food production in the socio-economically disadvantaged Central and South American immigrant neighborhood of the Mission, especially those in crime. In order to cope with the many entry barriers of this market (such as high entree costs, insurance, licenses, furniture, storage, etc.), many low-income people chose to convert their home into a hidden lunch-time restaurant, open to workers from the neighborhood only at the sound of the three-knock code. In these restaurants, the buying and selling of food was done illegally because the owners did not have the necessary permits to start a food business.
La Cocina (LC), a non-profit organization, was formed to support these hidden businesses and help them becoming a legal brick and mortar restaurants or packaged food production companies that could sustain themselves. LC is a social incubator that provides a work space, kitchen guidance, help and equipment, spices, storage space as well as the opportunity be part of LC's free food festival that expose more people to this local food that is prepared by those local businesses. LC provides a platform that will motivate and accelerate "bad-ass" people to set up such businesses by removing some of the barriers for this industry. These are, in fact, social businesses, as they provide work for disadvantaged local populations. Opening a restaurant and operating it as a financially profitable business alone is not a simple task, let alone opening it as a social business as well. The business owners treat the other workers (if any) as they would like to be treated, because up until recently, they too were in distress, so most of the employees in these businesses are very pleased.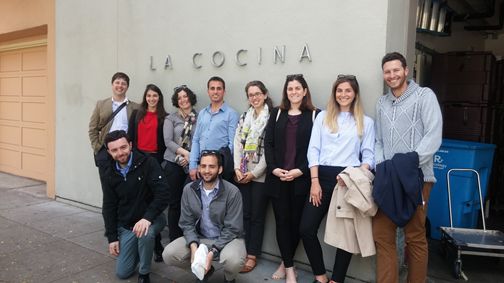 Today there are 33 businesses utilizing the incubator services of LC. About 70% of the business owners are parents, 94% are mothers, and 60% are immigrants and 91% are people of color. Since most of the business owners are immigrants, their menus offer unique cuisines. Through these incubated restaurants and packaged food lines, more people, especially tourists, are exposed to new tasting experiences.
The vision of this entrepreneurship center is to help these businesses to get the financial security they need to be sustainable, and to help these business owners succeed in doing what they wish do to, which is cooking. This initiative was born out of the belief that a social business, given the right resources (from the community and industrial services), can generate its own income and function as an independent business that benefits its owner, family, community and city, as a whole.
Most applicants come to LC to make the food and acquire the knowledge required to start a business. The period in which each business is incubated varies between the businesses: 3 to 5 years (depending on the extent of assistance required) and also includes a training period in which the clients learn the basic skills required to run a business and kitchen. At the beginning, there is a 6-month period where program participants receive technical assistance to establish the foundations
of their business in the areas of Product, Marketing, Finances, and Operations. Program participants whose first 6 months have been successful, continue to receive technical assistance in all of those areas and have access to affordable commercial kitchen space to grow their business sales. At the end process, program participants reach all established Incubation benchmarks and expand their business out of LC's kitchen while remaining part of the Alumni community. When the community sees that these business owners are successful, LC receives a lot of local respect, giving them a sense of reward. This also helps LC as it spreads word-of-mouth and creates a high demand for their services.
LC defines a business as successful, even if it has not completed the full program, but managed, given the resources allocated, to grow and achieve its owner's goal. Sometimes, after a few years of activity, an LC business gets tired of working so hard in the kitchen and returns to its former routine at home (since this can be very demanding). Nevertheless, LC gave them a platform to dare and try to deepen and succeed in the food industry professionally and completely, so they won't feel a sense of missed opportunities. As a fellow at the development funds, I can relate to this point of view, as these development funds often serve as a "venture capital" funds for social investments that do not necessarily succeed, but this "seed money" gives them the initial push they need.