Toward Affordable Housing in Israel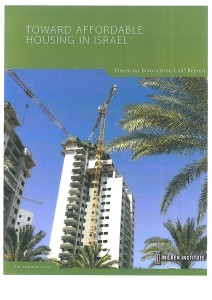 Israel is experiencing significant failures in its housing market. A dramatic increase in housing costs over the past five years has outpaced the rise in average household income. There are too few apartments for rent or purchase, and working families cannot compete in the current apartment market.
The housing dilemma is complex. It involves issues of housing policy, program development, banking and lending policies, and barriers not just to direct investment but also to public-private partnerships that leverage public funding with private capital. The solution lies in stocking a "toolbox" that includes novel applications for reliable
financial instruments, and for uniting market-, community-, and policy-based approaches to bridge the gaps between housing costs and supply.
Various stakeholders in the issue—the central government, local governments, community groups, developers, and investors—have offered a number of initiatives designed overall to deliver more apartments and, as a result, more affordable apartments.