Structuring Israel's Sovereign Investment Fund: Financing the Nation's Future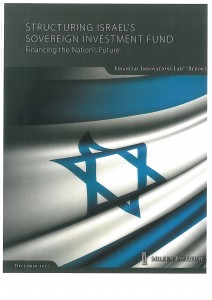 The recent discovery of two massive offshore natural gas fields about 130 kilometers west of Haifa has presented Israel with a mixed blessing. On the one hand, the Tamar and Leviathan fields may have the capacity to support Israel's domestic gas consumption for decades, with significant reserves left for exports and the development and
distribution of related platform chemicals as a new export industry.
Israel, like other resource-rich countries, can look forward to enormous economic opportunity. But that opportunity could turn toxic if Israel doesn't plan and invest wisely. The sudden injection of vast revenue
derived from natural-resource wealth, be it gold or oil or natural gas, has a long history of wreaking havoc in both developed and developing countries.
This report, based on a Financial Innovations Lab, seeks to help Israel avoid economic pitfalls, and examines how other modern states have successfully channeled their windfalls to finance their futures.