Israel's Health IT Industry: What Does the American Recovery and Reinvestment Act Mean for Israeli Collaborative Opportunities?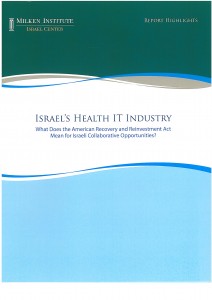 Few people know that Israel is one of the global pioneers in health information technology, a digital revolution that began in the mid-1990s. Israel's HMOs—notably Clalit Health Services and Maccabi, which today serve  about 80 percent of the Israeli population—led this revolution, which resulted in the implementation of electronic medical records used by virtually 100 percent of the country's population, the vast use of laboratory and imaging information systems, computerized physician order entries, and e-prescribing. The understanding that health IT requires more than just software and hardware, but involves organizational and cultural change, was essential to the successful implementation of these complex systems and generated unique knowledge on how to manage the change.
So why is it that today one thinks of Denmark or Sweden or elsewhere in Europe at the mention of cutting-edge health IT systems? How did Israel—first in the world to introduce health IT information exchange systems and with virtually 100 percent of its primary-care doctors using electronic health records—forfeit its place among nations recognized for pioneering IT leadership? And more important now, what can Israel do to change this misperception?
These questions form the basis of the following report, written by Yitzhak Peterburg, former CEO of Clalit Health Services.