Financing the Residential Retrofit Revolution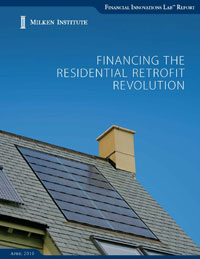 Our homes produce 20 percent of all U.S. greenhouse gas emissions, and study after study finds that efficiency measures are the cheapest way to save energy. Residential upgrades would pay for themselves by reducing home energy usage by 40 percent and creating green jobs. Unfortunately, no one has figured out how to cover the costs of a nationwide retrofit.
"Financing the Residential Retrofit Revolution" finds that various government programs and private-sector financing options, if properly integrated, can jumpstart the transition to a cleaner, more efficient use of energy in houses.
The report reviews the patchwork quilt of state-level financing options and existing programs, as well as solutions that can help build a sustainable national market for energy efficiency. The report also lays out a role for the federal government in scaling up the retrofit market.
The current economic climate poses significant challenges to making progress on this issue. Homeowners are intent on reducing their debt load; state and local governments are facing budget crises; and the mortgage meltdown has all but crushed the securitization market. However, the report states that a combination of public programs and private financing can overcome these hurdles by building on existing successes, looking for best practices and carefully identifying mission-oriented investors who will be willing to act as first movers in the private sector.
The report is the result of a Financial Innovations LabTM led by the Milken Institute in conjunction with the Energy Programs Consortium and with the support of the Ford Foundation. This first-of-its kind gathering of investors, lenders, federal and state energy officials, energy efficiency experts, and leaders from utilities, clean tech companies, foundations and community organizations was held in November 2009.