Financial Innovations in Israel: Revolving Fund for River Restoration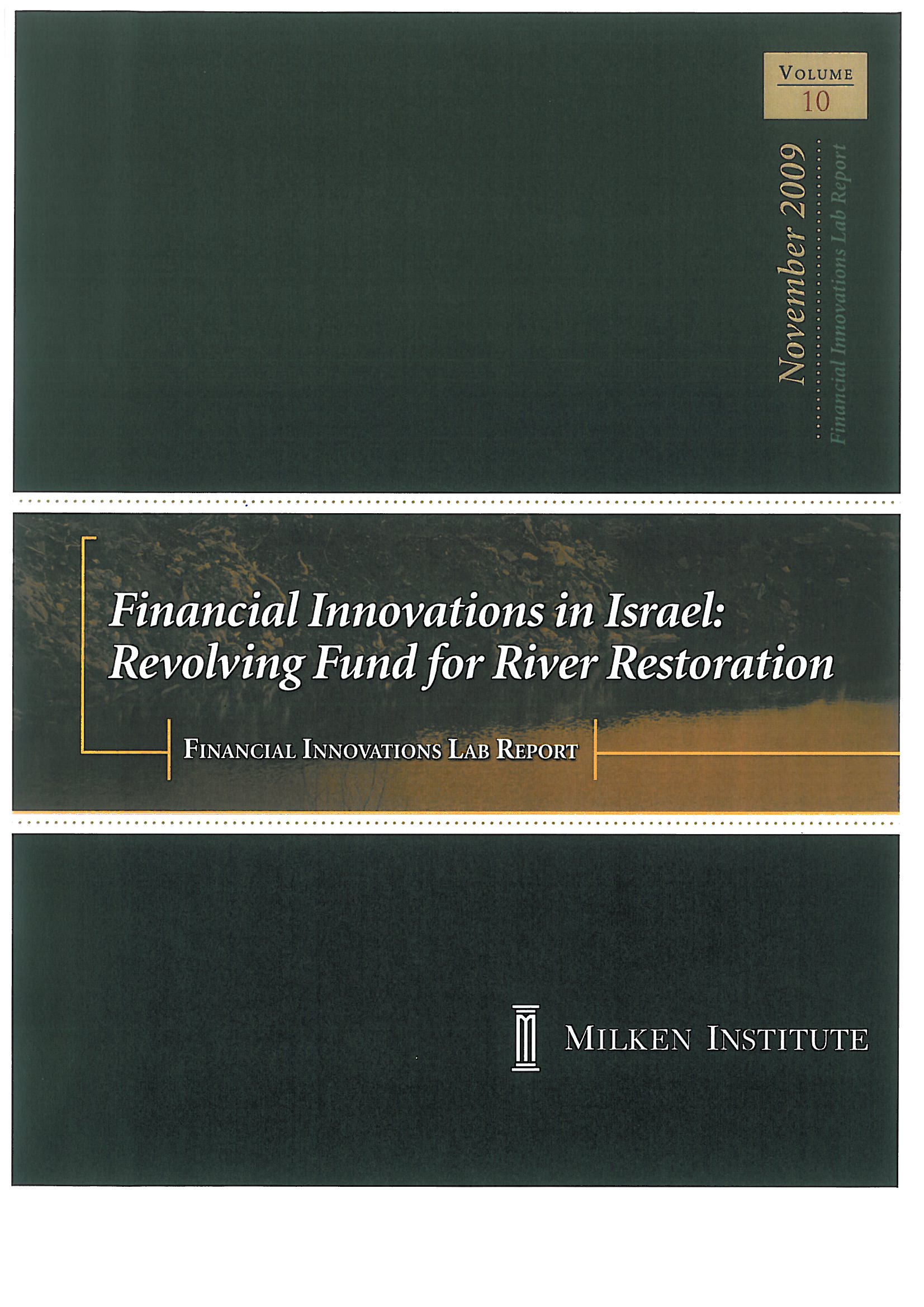 Sixty years after independence, Israel faces a severe environmental crisis: many of its rivers and streams are dying.  Historic increases in population and economic output have brought escalating demands for water. In addition to the problem of overconsumption, many rivers have become dumping grounds for industrial, commercial, agricultural, or residential waste. Seasonal streams carry more sewage than water. Toxins seep into the Mountain Aquifer. And over-pumped wells along the coastal aquifers are refilling with seawater. Pollution, drought, and excessive extraction have brought water shortages that will have social and political ramifications for years to come.
In the historically significant Kidron Valley, which runs from Jerusalem to the Dead Sea in the east, the Kidron River experiences a constant flow—28,000 cubic meters a day—of raw sewage and wastewater along its narrow course, making it Israel's greatest sewage hazard. Running from the Be'er Sheva Valley in the Negev to the Mediterranean, the Besor forms the largest river basin in Israel and flows past a UNESCO World Heritage Site. Yet for the forty miles from Hebron to Dimona, the Besor faces significant pollution from untreated sewage, industrial effluents, and agricultural and urban runoff that make their way into the shallow coastal aquifers. Reputed to be Israel's most poisoned river, the Kishon flows through the Galilee and has suffered decades of chemical dumping, most notably of mercury, ammonia, and oil from Haifa's industrial parks. Increased cancer incidence and genetic toxicity in the river's fish are just a few of the consequences of years of devastation.  All told, pollution has dramatically altered Israel's terrain, its climate, and its ecosystems.
Most Israeli river revitalization projects are funded solely by the government and local authorities, and structured as one-time grants. Such funding, however, is difficult to obtain and chronically delayed; and the one-time-only grant formula cannot meet the large-scale, long-term financial needs of river/stream revitalization. Capital tends to trickle down from ministries to local river authorities, and restoration projects find few sustainable funding sources. Grants don't leverage private investment—one of the solutions proposed later in this report— to generate larger financing pools and guarantee steady capital streams.
Over the past few decades, innovative ideas for water project finance and development have emerged around the globe. One model in particular seems well suited for adaptation in Israel. In 1987, the U.S. Congress enacted the Federal Clean Water Act and replaced the Environmental Protection Agency's aging grants programs with Clean Water State Revolving Funds (SRFs). In an SRF, a federal grant is pooled with a state's own funds, which can include bond sales to capital market investors. The state then makes loans to local municipalities and organizations, which repay the loans from project revenues and local taxes. The repayments also recapitalize the state fund, creating a sustainable resource for funding.
With that success in mind, the Milken Institute convened a Financial Innovations Lab in Jerusalem on November 5, 2008. More than forty business professionals, scientists, ministry officials, capital market investors, and water experts participated. They examined the Israeli Government's current funding programs, as well as legislative and regulatory changes that will be necessary to develop the country's first revolving fund. They discussed which rivers might serve as case studies for a revolving fund model. They also addressed financial innovations and incentives, and analyzed next steps.