Cultural Heritage as an Economic Development Resource in Israel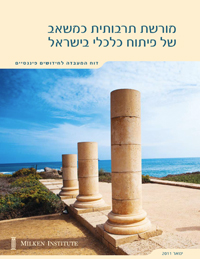 Two-thirds of Israel's 64 developed archaeological sites are operating in the red, creating an unsustainable future for the country's incredibly rich and potentially economically rewarding cultural heritage reserves. Thousands of others remain unexplored. But applying business start-up financing models – including community microfinance, venture capital and development bonds – could help preserve and protect the country's more than 30,000 identified archaeological sites while also providing local and national economic growth. Among the proposed financing solutions:
Community microfinance, building on the example of Lawrence Coben's Sustainable Preservation Initiative, could help local communities leverage loans, philanthropic donations and direct equity to finance targeted development.
Israel's tremendously successful venture capital market is a valuable source of potential funding for culture heritage cluster development, linking archaeological preservation with the tourism, small business, retail and even technology sectors.
Relatively low-risk archaeological development bonds provide long-term project financing for preservation and can be funded by a variety of revenue streams, including antiquity leasing, media content and intellectual property and even artisan craft and replica merchandise.
The report is the result of a Financial Innovations LabTM that pulled together a diverse group of researchers, policymakers, and business, financial and professional practitioners.
This report is also available in Hebrew.