Financial Innovations for Developing Archaeological Discovery and Conservation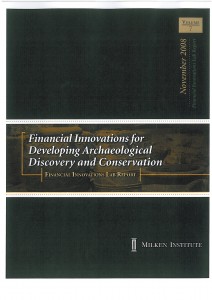 Moche Textiles,Etruscan vases, Shang Dynasty bronzes, Phoenician sculptures: the demand for antiquities has contributed to the growth of a global art market estimated at $55 billion. Driving the trade of history's prized artifacts is the ability to reap both a cultural and economic return on investment. Unlike stocks and bonds, terra cotta figures and marble statuary offer the tangible cachet of both personal and portfolio showpieces.
The antiquities market has grown exponentially over the past three decades, with demand outstripping supply. An engraved Sumerian cylinder seal sold at Christie's auction house in London in 1975 would be valued at three or four times that price in today's market. Despite recent global economic turmoil, in fact, at a recent antiquities auction at Bohnams in London, "modest pieces—some good but not outstanding, others either downright mediocre or in desperately poor condition"— amazed at least one reviewer by selling "at prices defying common sense." Yet even with international conventions and homecountry regulatory efforts to control the trade, a flourishing $4 billion black market in art continues to hasten the destruction of archaeological sites worldwide. A 1982 survey of Mayan ruins in Belize found that looting had already occurred in nearly three-quarters of the major ceremonial centers and more than half of lesser sites. In Mali, more than half the archaeological sites have reportedly suffered damage from unlawful excavation. Up to 90 percent of Peru's pre-Columbian artifacts may have moved from excavation sites directly to foreign markets. Looted holes scar the landscape from Cambodia to Cameroon.
The illegal market for drugs or arms involves criminal activity at every transaction stage. But the lines of legality blur in the antiquities trade, with much of the illegal trade moving within an established and respected market. A murky chain of events exists between the looter and the dealer or curator, which often makes it difficult to determine, for example, whether Incan pottery on the New York auction block was in fact stolen from a site or released from a long-held private collection.
The stakes are high and the players are many,empowered by advances in technology and ease of transport that extend the reaches of the market. In the illicit trade of antiquities, now part of arguably
the world's third-largest black market, this chain of commerce connects impoverished Cambodian farmers and anonymous middlemen, skilled at
document forgery and facilitating shipments, with legitimate dealers and high-powered collectors in New York or London. As investment in the global economy expands alongside the demand for cultural artifacts, it has become increasingly necessary to regulate and motivate market participation.